Home
>
Statistics
> Chinese in Catholic (and other) schools in Sydney
Chinese in Catholic (and other) schools in Sydney
From
graphs like this
in previous posts, it's pretty clear that the primary school and high school age group is very significant for the future of ABC ministries. Well, what kind of educational institutions are ABCs in? How many of them are in Catholic (and other) schools?
First off, here is a graph showing you where the Chinese and ABCs are in terms of educational institutions in Sydney. Note that the red bars (All students) maps to the scale on the right hand side. The green and blue bars (Chinese and ABCs) maps to the scale on the left hand side. I've put them on the same graph so you can see the relative proportions.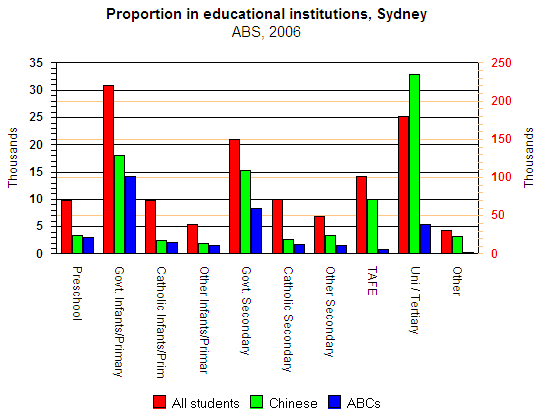 In case you want it, here is a table with that data.
 

 Preschool 
 Govt.
 Infants/Primary 
 Catholic
 Infants/Primary 
 Other
 Infants/Primary 
 Govt.
 Secondary 
 Catholic
 Secondary 
 Other
 Secondary 
 TAFE
 Uni / Tertiary 
 Other

 All students 

69,916 

220,630 

70,529 

39,223 

150,444 

70,831 

48,479 

 101,418 

179,607 

 31,306 

 Chinese

3,439 

18,095 

2,454 

1,876 

15,292 

2,703 

3,467 

10,047 

32,975 

3,283 

 ABCs

2,958 

14,210 

2,075 

1,540 

8,384 

1,781 

1,629 

901 

5,416 

323 
From this you can see that the vast bulk of both Chinese and ABCs are actually in government primary schools and high schools. And there are quite a few of them. Roughly 8% of kids in government primary schools and 10% of kids in government high schools are Chinese – even though people of Chinese ancestry only make up 3.4% of Australia's population.
From the stats on religion in
a previous post
, a number of people have asked about how many ABCs are actually in Catholic schools. This table tells you the answer: 2,075 are in Catholic primary schools, and 1,781 are in Catholic high schools. While the number of ABCs in Catholic schools is proportionally much less than the population as a whole, it's actually about right for the percentage of ABCs that are Catholics.
You might have thought that there would be proportionally
more
 ABCs going into Uni / tertiary education than the general population. So why does the blue bar look so low? That's because the age profile for ABCs is not flat – but
heavily
weighted towards primary and high schoolers (see 
this graph
). It's not that there are
less
 ABCs doing tertiary education – but there are
much more
 school aged ABCs coming up through the education pipeline!
Notice also the big green spike of Chinese people in Uni / Tertiary education – that's because of overseas students!
Here is a map of Chinese kids (not necessarily ABCs) in Catholic infant and primary schools.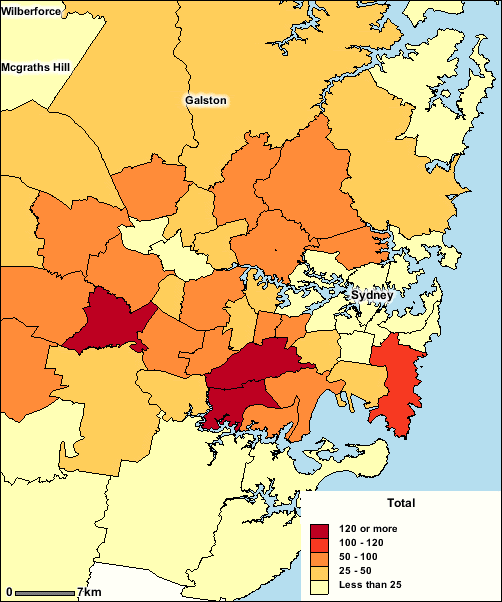 And here is a map of Chinese kids in Catholic secondary schools.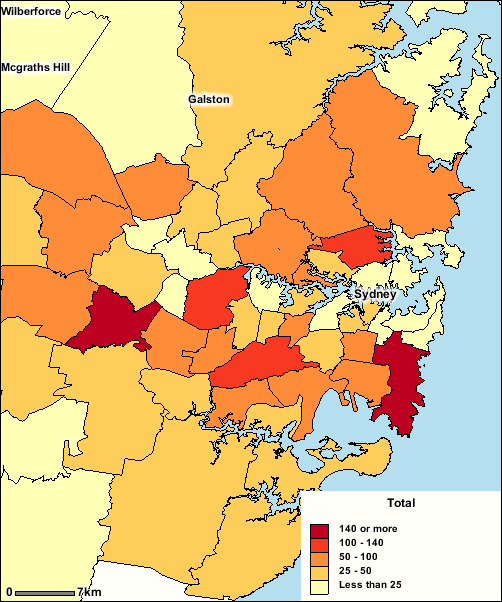 Here is a table with that information on Catholic primary and secondary schools. Note that these are kids of Chinese ancestry, not just ABCs.
 Statistical Local Area
 Attending Catholic
 infant and primary
 schools 
 Attending Catholic
 secondary schools 
 Statistical Local Area
 Attending Catholic
 infant and primary
 schools 
 Attending Catholic
 secondary schools 

 Botany Bay

45 

68 

 Auburn

99 

129 

 Leichhardt

10 

8 

 Holroyd

52 

44 

 Marrickville

49 

33 

 Parramatta – Inner

20 

19 

 Sydney – Inner

7 

33 

 Parramatta – North-East

44 

36 

 Sydney – East

3 

15 

 Parramatta – North-West

23 

16 

 Sydney – South

19 

50 

 Parramatta – South

33 

17 

 Sydney – West

10 

31 

 Blue Mountains

3 

3 

 Randwick

111 

228 

 Hawkesbury

12 

5 

 Waverley

3 

7 

 Penrith – East

19 

19 

 Woollahra

4 

22 

 Penrith – West

19 

25 

 Hurstville

121 

97 

 Blacktown – North

47 

61 

 Kogarah

62 

46 

 Blacktown – South-East

73 

59 

 Rockdale

82 

53 

 Blacktown – South-West

26 

30 

 Sutherland Shire – East

18 

29 

 Hunter's Hill

7 

63 

 Sutherland Shire – West

22 

38 

 Lane Cove

18 

29 

 Bankstown – North-East

52 

52 

 Mosman

5 

6 

 Bankstown – North-West

57 

50 

 North Sydney

5 

23 

 Bankstown – South

44 

34 

 Ryde

85 

82 

 Canterbury

175 

139 

 Willoughby

58 

108 

 Fairfield – East

168 
145 

 Baulkham Hills – Central

50 

60 

 Fairfield – West

67 

83 

 Baulkham Hills – North

25 

23 

 Liverpool – East

46 

34 

 Baulkham Hills – South

28 

37 

 Liverpool – West

53 

44 

 Hornsby – North

39 

34 

 Camden

7 

3 

 Hornsby – South

50 

41 

 Campbelltown – North

19 

14 

 Ku-ring-gai

67 

84 

 Campbelltown – South

3 

14 

 Manly

4 

24 

 Wollondilly

3 

0 

 Pittwater

9 

3 

 Ashfield

68 

51 

 Warringah

44 

73 

 Burwood

56 

34 

 Gosford – East

8 

3 

 Canada Bay – Concord

25 

16 

 Gosford – West

3 

6 

 Canada Bay – Drummoyne

11 

30 

 Wyong – North-East

9 

0 

 Strathfield

46 

33 

 Wyong – South and West

4 

6 
[ PS: for more on Catholic ABCs see
this post
... ]